Assertion and Reason Type Question
Following question consider two statements one labelled as statement-1 and another as statement-2. Study both statements and mark your answer using the codes given blow.
Both Statement-1 and Statement-2 are true and Statement-2 is correct explanation of Statement-1.
Both Statement-1 and Statement-2 are true and Statement-2 is not a correct explanation of Statement-1.
Statement-1 is true but statement-2 is false.
Statement-1 is false and statement-2 is true.
Question-1
Statement-1
Free electrons in conductor are always in state of continuous random motion.
Statement-2
The random motion of free electrons is due to thermal energy of the conductor.
Question-2
Statement-1
Drift velocity of electrons in a conductor increase on increasing the temperature of the conductor.
Statement-2
On increasing the temperature of a conductor, resistivity of the conductor increases.
Question-3
Statement-1
For metals relaxation time for electrons decreases with increase in temperature.
Statement-2
With the increase in temperature, number of collision per unit time that electrons made with lattice ion also increases.
Solution 1-3
Multiple Choice Type Questions
Question-4
Resistivity of the material of a conductor having uniform area of cross-section varies along its length according to the relation
ρ= ρ
0
(a+bx)
if L is the length of the conductor and be the area of cross-section then resistivity of the conductor given by relation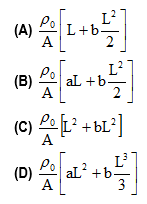 Solution
Question-5
Given a current carrying wire of non-uniform cross-section. Which of the following is constant through out the wire.
(A)
Current only
(B)
Current and drift speed
(C)
Drift speed only
(D)
Current, drift speed and electric field
Solution
Question-6
When potential difference across a given copper wire is increase, drift velocity of charge carriers
(A)
Decreases
(B)
Increases
(C)
Remain same
(D)
Get reduced to zero
Solution
Question-7
A material B has twice the specific resistance of the material A. A circular wire made of B has twice the diameter of the wire made of A. Then , for the two wires to have to have the same resistance, the ratio
L
a
/L
b
of their respective lengths must be
(A)
½
(B)
2
(C)
¼
(D)
1
Solution
Question-8
What will be the equivalent resistance between A and D

(A)
40
Ω
(B)
20
Ω
(C)
30
Ω
(D)
10
Ω
Solution
Question-9
In the given circuit below the equivalent resistance between points A and C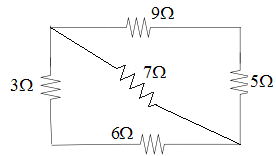 (A)
32
(B)
30.7
(C)
33.07
(D)
3.07
Solution
Question-10
A circular ring having negligible resistance is used to connect four resistors as shown below in the figure.
The equivalent resistance between point A and B is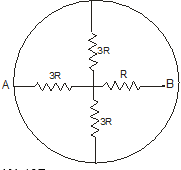 (A)
10R
(B)
2R
(C)
3R
(D)
R
Solution
link to this page by copying the following text
Notes
Concept map
Assignment
Class 12 Maths
Class 12 Physics