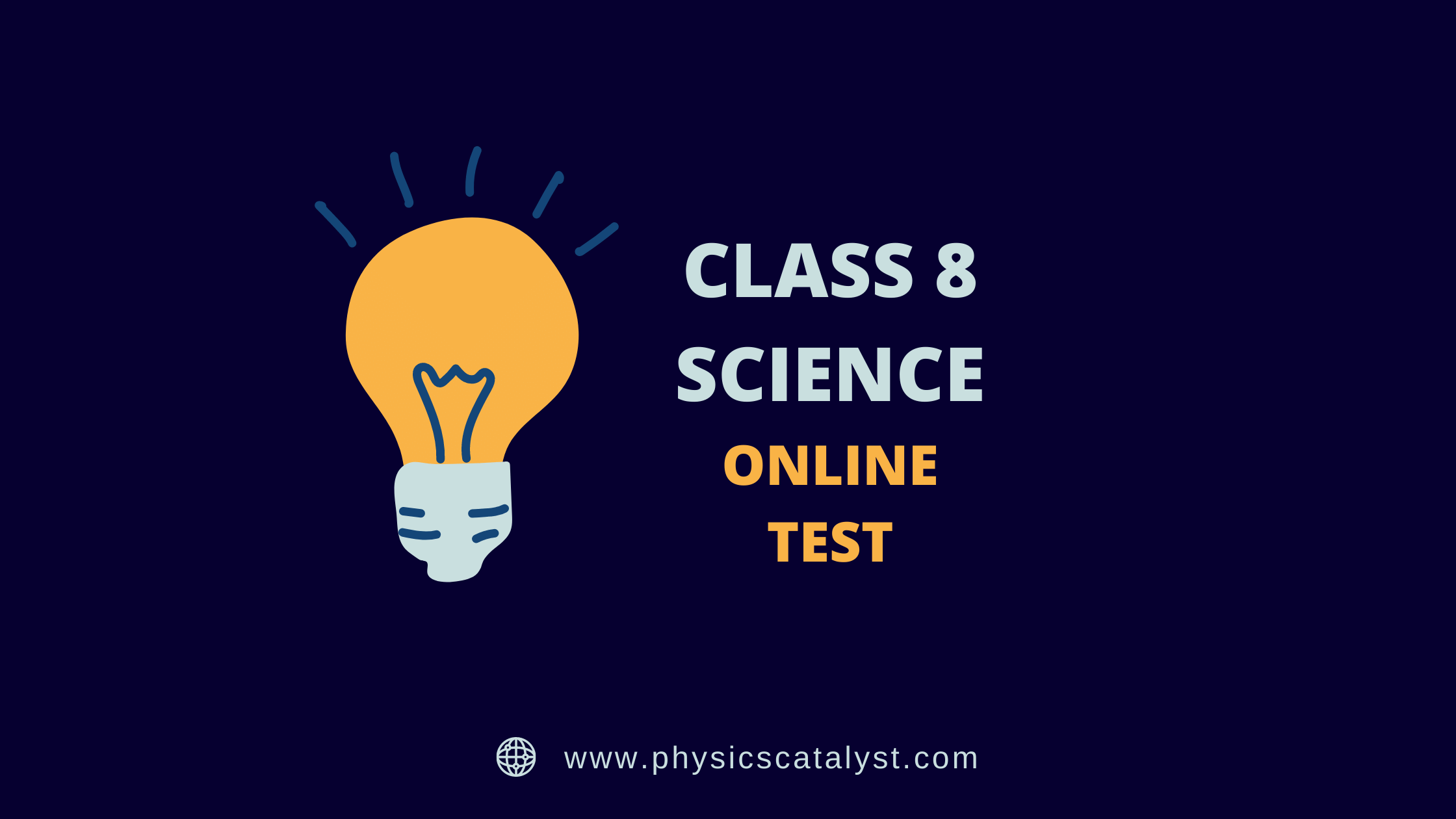 Welcome to this science quiz for class 8 with answers. On this page, you will find links to free MCQ questions for class 8 Science. Just click on any one of the online MCQ tests for class 8 CBSE science. Chapter-wise online tests are given below each chapter heading.
Online science quiz for class 8 with answers
Students can practice all topics and chapters with free online mock tests or quizzes for Class 8 Science. Practice these multiple-choice questions made by our experts and teachers. Submit the test to get instant results.
Chapter 1 – Crop Production and Management
Chapter 2 – Micro-organisms: Friend and Foe
Chapter 3 – Synthetic Fibres and Plastics
Chapter 4 – Materials: Metals and Non-Metals
Chapter 5 – Coal and Petroleum
Chapter 6 – Combustion and Flame
Chapter 7 – Conservation of Plants and Animals
Chapter 8 – Cell – Structure and Functions
Chapter 9 – Reproduction in Animals
Chapter 10 – Reaching The Age of Adolescence
Chapter 11 – Force and Pressure
Chapter 12 – Friction
Chapter 13 – Sound
Chapter 14 – Chemical Effects of Electric Current
Chapter 15 – Some Natural Phenomena
Chapter 16 – Light
Chapter 17 – Stars and The Solar System
Chapter 18 – Pollution of Air and Water
This Online science quiz for class 8 with answers is based on the Class 9 Science syllabus and follows NCERT guidelines. These MCQ tests will help the learners achieve accuracy and develop time management skills. They will be better prepared for the examination.
Frequently asked questions on Online test/Quiz for Class 8 Science
How many chapters are present in Class 8 Science
There are 18 chapters in Class 8 Science
How to start the Test?
Choose the Chapter and click on it. It will open a new page. Click the start test button on that page
How do I complete the MCQ?
For each question, there will be an option list of potential answers and you will click on the one that you think is correct.
Can I use a calculator during the exam?
Candidates are not permitted to use the calculator during the test.
Will I be able to go back and edit the answers?
You will be free to navigate back and forth through the exam.
How will I be able to contact someone if I don't understand a question or notice an error in the question paper?
You put the comments in the test paper or you can send us a mail also
What if I finish my test early?
If you finish your test early, you can submit your answers. Once you have submitted you will not be able to go back
When will I get the result of my test?
You will get your result & performance analysis instantly once you submit your online test.
Will you be providing Solutions to the Questions?
We have provided the Answers and Solutions/ Hints to most of the questions. We keep updating them
Is there any negative marking?
We will inform in General instructions if there is negative marking. If it is not written, there is no negative marking
what is the Syllabus for Online Test Series?
The syllabus is as per CBSE standards only.
Where I can find Notes, Worksheets and NCERT Solutions on Class 8?
Check the below link
Class 8 Maths Notes
Class 8 Science Notes