Here are the CBSE Rationalized syllabus of  Maths and Science for Class  6 ,class 7,class 8, class 9 ,class 10 , class 11 and  Class 12 for 2023-2024.  You can click and download on your PC of easy viewing.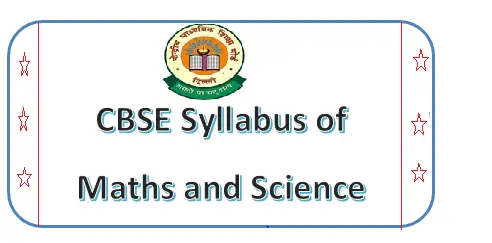 About CBSE
The Central Board of Secondary Education (abbreviated as CBSE) is a Board of Education for public and private schools, under the Union Government of India.
CBSE conducts the final examinations for Class 10 and Class 12 every year in the month of March. The results are announced by the end of May The board earlier conducted the AIEEE Examination for admission to undergraduate courses in engineering and architecture in colleges across India. However the AIEEE exam was merged with the IIT-Joint Entrance Exam (JEE) in 2013. The common examination is now called JEE-Main.
CBSE also conducts NEET for admission to major medical colleges in India. In 2014, the conduct of the National Eligibility Test for grant of junior research fellowship and eligibility for assistant professor in institutions of higher learning was outsourced to CBSE. Apart from these tests, CBSE also conducts the central teachers eligibility test and the Class X optional proficiency test. With the addition of NET in 2014, the CBSE has become the largest exam conducting body in the world.
Study Material , NCERT Solutions and Worksheet for CBSE Syllabus can be found at below link
Class 10 Science
Class 10 Maths
Class 11 Physics
Class 11 Maths
Class 11 Chemistry
Class 11 Biology
Class 11 Biotechnology
Class 12 Physics
Class 12 Maths
Class 12 Chemistry
Class 12 Biology
Class 12 Biotechnology
Introduction to CBSE's Rationalized Syllabus
The Central Board of Secondary Education (CBSE) has undergone a process of syllabus rationalization for various classes. This initiative aims to streamline the curriculum, making it more focused and manageable for students. The rationalization process involves the careful selection and organization of topics to ensure that the syllabus is both comprehensive and relevant.
What is Syllabus Rationalization?
Syllabus rationalization is the process of modifying the existing curriculum to make it more efficient and effective for educational purposes. This involves the removal of redundant topics, the addition of essential subjects, and the reorganization of the existing content. The objective is to align the syllabus with the educational goals and learning outcomes that are expected from students at each grade level.
Importance for Students
For students, a rationalized syllabus offers the advantage of a more focused study plan. It eliminates the burden of unnecessary topics, allowing students to concentrate on essential subjects that are crucial for their academic and professional growth.