Chapter 11 Work and Energy in Class 9 Science Online MCQs with answers are available here. The questions are written in accordance with the CBSE and NCERT curricula. Students can use these objective questions to help them prepare for examinations and get good grades.
Students can practice these questions on the Work, power and Energy class 9 MCQ online quiz here and train for final tests, and score good marks. Answers to questions are provided at the end after submitting this test.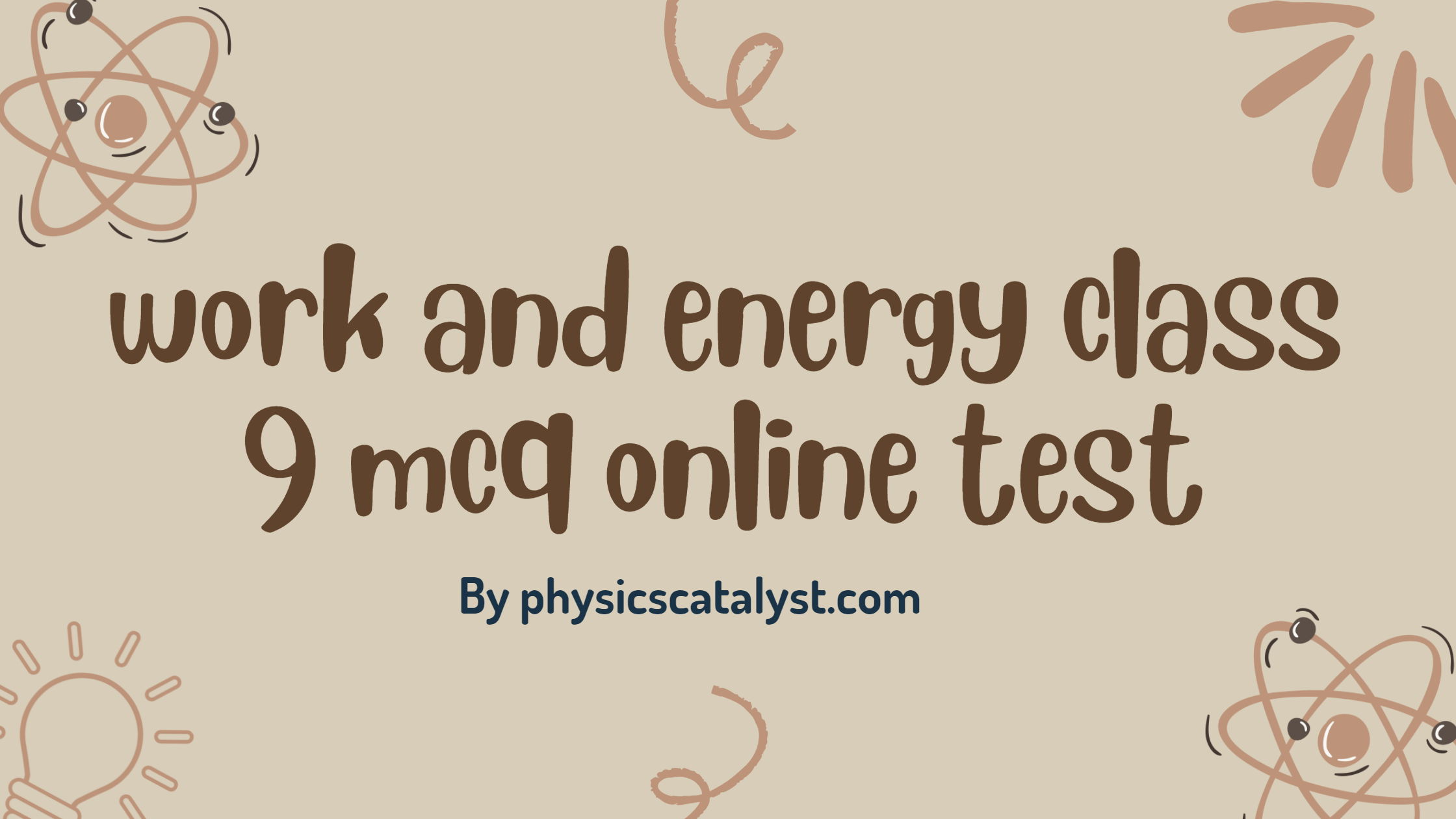 Students are advised to practice these chapter-specific online mock tests and prepare for the final exams in order to perform well. Check out the Class 9 Science page as well for chapter notes and worksheets.
Students can also use other science class 9 mcq online tests available with us to help them prepare for exams and score higher grades.
work and energy class 9 mcq online test
---
Instructions
Your test contains 15 multiple choice questions with only one answer
This is 30 min test.Please make sure you complete it in stipulated time
You can Finish this test any time using 'Submit' button.
This Online Test must be completed in 20 minutes.
---
Other Important links that you might find helpful
Notes
Assignments
Frequently asked questions on Online test/Quiz for Class 9 Science
How many chapters are present in Class 9 Science
There are 15 chapters in Class 9 Science
How to start the Test?
Choose the Chapter and click on it. It will open a new page. Click the start test button on that page
How do I complete the MCQ?
For each question, there will be an option list of potential answers and you will click on the one that you think is correct.
Can I use a calculator during the exam?
Candidates are not permitted to use the calculator during the test.
Will I be able to go back and edit the answers?
You will be free to navigate back and forth through the exam.
How will I be able to contact someone if I don't understand a question or notice an error in the question paper?
You put the comments in the test paper or you can send us a mail also
What if I finish my test early?
If you finish your test early, you can submit your answers. Once you have submitted you will not be able to go back
When will I get the result of my test?
You will get your result & performance analysis instantly once you submit your online test.
Will you be providing Solutions to the Questions?
We have provided the Answers and Solutions/ Hints to most of the questions. We keep updating them
Is there any negative marking?
We will inform in General instructions if there is negative marking. If it is not written, there is no negative marking
what is the Syllabus for Online Test Series?
The syllabus is as per CBSE standards only.
Where I can find Notes, Worksheets and NCERT Solutions on Class 9?
Check the below link
Class 9 Maths Notes
Class 9 Science Notes