Introduction to Council of Indian School Certificate  Examination
Council for the Indian School Certificate Examinations (abbreviated as CISCE) is a national level, private Board of School education in India that conducts the Indian Certificate of Secondary Education (ICSE) and the Indian School Certificate(ISC) examinations for Class X and Class XII respectively. It was established in 1958.
In 1952, an All India Certificate Examinations Conference was held under the Chairmanship of Maulana Abul Kalam Azad, Minister for Education. The main purpose of the Conference was to consider the replacement of the overseas Cambridge School Certificate Examination by an All India Examination. This set the agenda for the establishment of the Council.
In October 1956 at the meeting of the Inter-State Board for Anglo-Indian Education, a proposal was adopted for the setting up of an Indian Council to administer the University of Cambridge, Local Examinations Syndicate's Examination in India and, to advise the Syndicate on the best way to adapt its examination to the needs of the country. The inaugural meeting of the Council was held on 3rd November, 1958.
ICSE and ISC Exam Date Sheet 2020
The annual examinations of class X and XII will be conducted by CISCE  in Feb/March/April
CISCE (Council for the Indian School Certificate Examinations) has announced School Board Exam Time Table for exam Schedule of academic year 2022 – 2023.
Dates and downloadable sheet are given below
Students can check out exam time table from CISCE official website
Dates(2023) are given below .
| | |
| --- | --- |
| Class | Range of date |
| Exam Date of ICSE 10th | 27-02-2023 to 29-03-2020 |
| Exam date of ISC 12th | 03-02-2020 to 31-03-2020 |
Class 10 date Sheet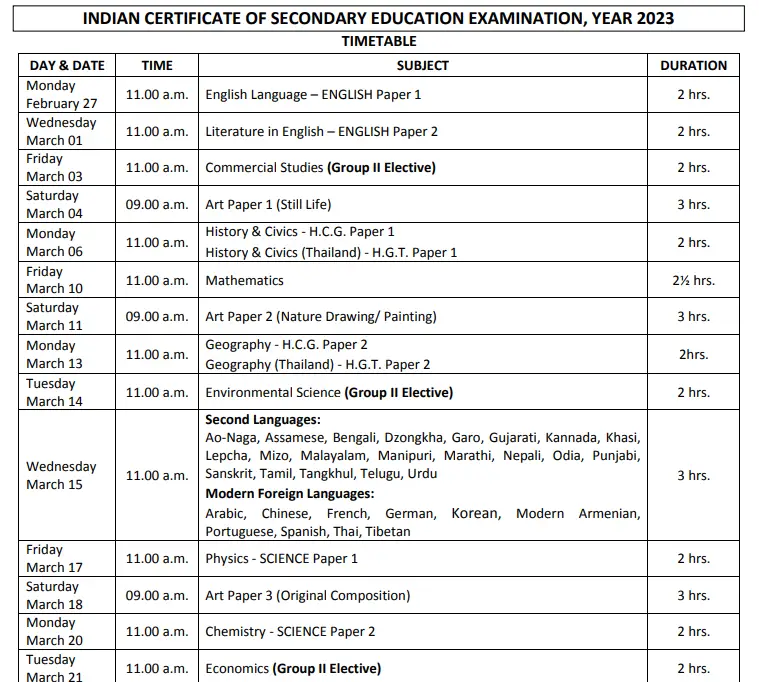 Download ICSE Class 10 Date Sheet
Class 12 Date Sheet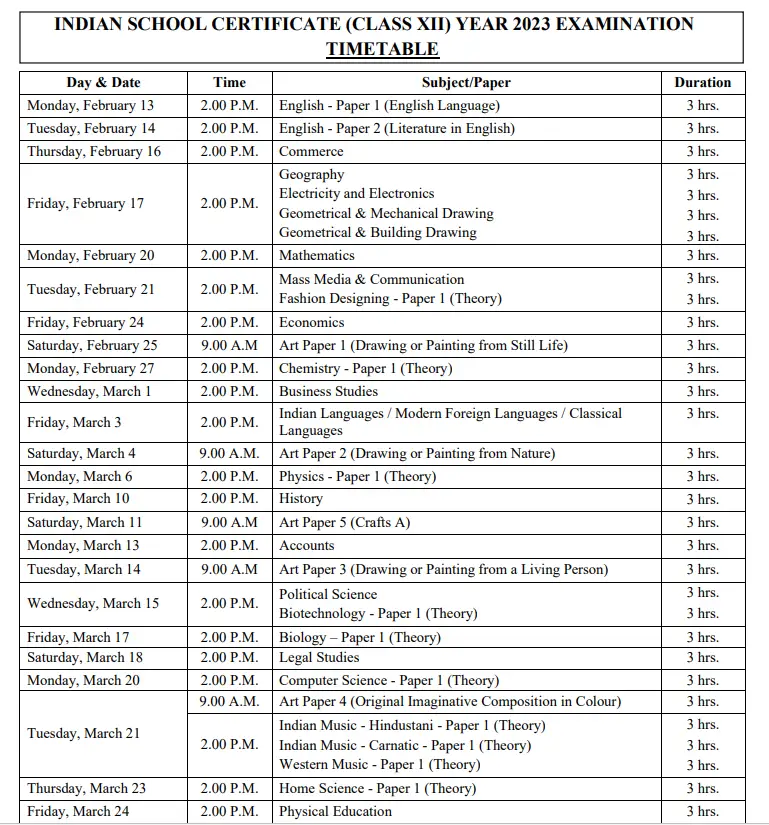 Download ISC 12th Class Date Sheet
CISCE has also mentioned that the exam dates are subject to change on the basis of the declaration of election dates by the Chief Election Commissioner of India for the States that are due for Assembly Elections in the upcoming months. Therefore candidates must keep a tab on the official website to stay up to date with any changes in the Exam Dates.
Approximately 3-4 weeks are remaining for the examination. Students should finish the  course with in few days and start the revision. I am listing here few related articles for examination preparation.I hope it will help in your examination and you will get good scores
Revise during Preparation of Exams
Tips on How to write in Examination for better score
How to take Maths exam effectively
How to cope with stress during examination time