BLOOD:-
Blood is a special red vascular circular connective tissue consisting of a fluid matrix, i.e., plasma, & formed elements i.e., RBCs, WBCs and platelets.  
PLASMA:-
Plasma is a straw coloured, viscous fluid constituting nearly 55% of blood volume.
Functions of Protiens
Albumin: help in osmotic balance
Globulin:  Involved in defense mechanism
Fibrinogen: Need for coagulation/ clotting of blood
Functions of Plasma:-
Transportation
pH  constancy
 Blood clotting
Immunity
Osmotic balance
Formed Elements:-
These include blood corpuscles which float freely in the plasma. These form 40-45% of blood plasma.
Erythrocytes (RBC), leucocytes (WBC) & platelets are collectively called formed elements.
Erythrocytes (RBCs)
In mammals except Camels, Lama the mature RBCs are circular, biconcave, & non- nucleated.
They have a red- coloured iron containing complex protein called hemoglobin.
RBCs are formed in the red bone marrow in adults.
Average lifespan of human RBCs is 120 days.
RBCs are destroyed in the spleen.
On an average 5 million to 5.5 million of RBCs per cubic mm of blood is present.
Note:-
The instrument used to determine RBC count is haemocytometer.
The instrument used to measure hemoglobin count is called haemometer.
When RBCs count decrease then it is called Anemia
When RBCs count more than the normal then it is called polycythemia.
FUNCTIONS OF RBCs
RBCs help in transport respiratory gases in the body. Hemoglobin acts as a buffer & helps in maintaining constant pH.
LEUCOCYTE (WBC)
They are colourless due to the lack of hemoglobin.
They are nucleated & less in number. (6000-8000 mm-3 of blood)
Total no. of leukocytes per microliter or per cubic mm is called TLC (Total leucocytes count)
TYPES OF WBCs
On the basis of
cytoplasmic granules,
the leukocytes are divided into two types:-  
Granulocytes:-
These have granular cytoplasm and lobed nucleus so also called
polymorphonuclear leukocyte (PMNL)
. They are of Three types:-
Neutrophils:
These comprise about 60-65% of the total no. of TLC.. These are the chief phagocytes cells of the body & engulf microbes by phagocytosis.
Eosinophils(Acidophiles):-
These constitute about 2-3% of TLC. These increase in number in allergic diseases. These help in healing wounds.
Basophils:-
These comprise about 0.5- 1% of TLC, so least in number. Basophils secrete, heparin and histamines, serotonin, so have an important role in anti- coagulation (or inflammatory reactions).
Agranulocytes
:-
These are non- Granular white blood cells that contain non- lobulated nuclei. These are of two types:-
Monocytes:-
These are highly motile & phagocytic in action & engulf bacteria, so these form a second line of defense.
Lymthocytes:
- (20-25%)
These are non- motile & non- phagocytic. Primary function of lymphocytes is to produce anti- bodies &
opsonins
.

Blood Platelets (Thrombocytes):-
These are colourless, oval shaped cells formed from the megakaryocytic of bone- marrow.
These are non- nucleated.
These play a major role in the process of blood clotting.
At injury, the platelets release a no. of clotting factors & an enzyme thromboplastin which causes the coagulation of blood & clot formation to prevent excessive bleeding.
Blood normally contains 150,000- 350,000 platelets mm-3.
BLOOD GROUP (given by Karl Landsteiner)
On the surface of plasma membranes of RBCs certain Glycoprotein molecules called
Antigens
are present which differ in different persons and give specific blood- groups to them.
Two common type of blood- groups are:-
ABo blood group system
Rh blood group system
ABO Blood Group system:-
A German biochemist Karl Land Steiner (1901) confirmed the presence of two types of proteins in the human blood.
Agglutinogen/ Antigen – Present on the surface of RBCs & are of two types 'A' & 'B'.
Agglutinin/ Antibody – Present in blood plasma & are of two types 'a' & 'b'.
Both antigen 'A' & antibody 'a' are incompatible & antigen 'B' & antibody 'b' are incompatible to each- other & causes self- clumping (clot) & slows agglutination reaction.  
| | | | |
| --- | --- | --- | --- |
| Blood Group | Antigens | Antibodies | Donor's Group |
| A | A | b | A, O |
| B | B | a | B. O |
| AB | A,B | nil | AB, A, B, O |
| O | Nil | a, b | O |
Rh Blood group System:-
Rh antigen present on the surface of RBCs in humans. It was first discovered by Landsteiner & Weiner (1940).
On the plasma membrane of RBCs of Rhesus monkeys (Macaca rhesus) so, it is called Rh factor(D-antigen).
Individuals in which Rh antigen is present are called Rh +ve & those with Rh factor are called Rh -ve.  
Incompatibility of Rh factor during pregnancy:-
The child of a homozygous Rh +ve male & his Rh –ve wife will always be Rh +ve. Rh antigen of the fetus doesn't get exposed to the Rh –ve blood of the mother in the first pregnancy because of the placenta.
However, during the delivery of the first child, if maternal blood exposes to a small amount of Rh +ve blood of the fetus then, the mother starts preparing antibodies against Rh antigen in her blood. But from the second pregnancy onward the antibodies from the maternal blood enters the foetal blood & causes agglutination of foetal blood cells; this is called
erythroblastosis fetalis
& causes the immediate death of the baby due to severe anemia.
This can be avoided by administering the anti- Rh – antibodies or Rhogam to the mother immediately after the delivery of the first child.  
BLOOD CLOTTING/ COAGULATION
The property of blood to change from fluid to gel state within a few minutes of its coming in contact with air is called blood coagulation or clotting.  
Factors involved:-
Fibrinogen
Prothrombin
Tissues thromboplastin
Ca2+ (calcium ion)
Labile factor
Anti- hemophilic factor etc
MECHANISM OF BLOOD CLOTTING:-
It involves three essential steps:-
Formation of pro- thrombin activator
Conversion of pro- thrombin to thrombin
Conversion of fibrinogen to fibrin & formation of blood clot
FORMATION OF PRO- THROMBIN ACTIVATOR:-
It is the combination of activated factors & formed by extrinsic & intrinsic pathways.
CONVERSION OF PRO- THROMBIN TO THROMBIN:-
In the presence of Ca2+ & thrombokinase enzyme thrombin is formed from inactive pro- thrombin.
CONVERSION OF FIBRINOGEN TO FIBRIN & FORMATION OF BLOOD CLOT:-
Fibrins are formed by the conversion of inactive fibrinogen in the plasma by the enzyme thrombin.
Fibrin threads polymerize & form a mesh work which traps blood cells, platelets etc to form clot or coagulum; so this process is called blood clotting.  
LYMPH:-
Lymph is a white vascular connective tissue present in lymph vessels.
Lymph is formed
of plasma & leukocytes.
FUNCTIONS
The lymph acts as middlemen between the blood & tissue cells as it passes on food & oxygen from blood to tissue cell & handover excretory waste & hormones & CO2 from body cells to the blood.
It also transports fat food from the intestine to the venous blood.
HUMAN HEART
It is the thick muscular reddish brown, mesoderm in origin, conical organ present in the thoracic cavity between the two pleura enclosing the lungs & about the size of a person's clenched fist.
It is surrounded by two pericardium membranes & between two layers a pericardial fluid is present which performs two functions.
It allows fiction less movement of heart.
Protect the heart from mechanical shock.
Human heart has four chambers, two relatively small upper chambers called atria (auricle) and two larger lower chambers called ventricles.
Both auricles are separated by thin inter- atrio septum.
The ventricles are separated by thick inter- ventricular septum.
The atrium & ventricle of the same side are separated by thick atrio- ventricular septum.
The opening between the right atrium & right ventricle are guided by a valve known as tricuspid valve.
The opening between the left atrium & left ventricle is guarded by a bicuspid valve.
The opening of the right & left ventricle into the pulmonary artery & aorta respectively are provided with a semi- lunar valve.
The valve in the human allows the flow of blood in one direction and to prevent backflow of blood.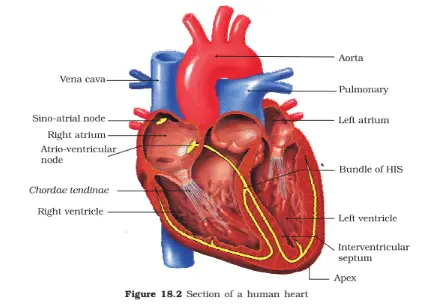 HEART IN DIFFERENT VERTEBRATES:-
Fishes- Two- chambered Single circulation, cold- blooded animals
Amphibians- Three- chambered, double circulation, cold-blooded animals
Reptiles- Three- chambered, double circulation (expect crocodile), cold-blooded animals
Birds & Mammals- Four chambered, double circulation, warm.blooded animals
RHYTHMIC CONTROL & IMPULSE CONDUCTION:
The heart is formed of cardiac muscles which have the property of excitability and conductivity.
Initiation of heart- beats is under three special bundles of cardiac muscles called nodal tissue, so the heart is called myogenic.
SINO- AURICULAR/ SINOATRIAL NODE (SA Node):
It lies in the right wall of the right auricle below the opening of the superior vena- cava.
The SA Node can generate the maximum no. of action potential i.e. 70 to 75 m-1 & is responsible for initiating & maintaining the rhythmic contractile activity of the heart, therefore it is called pacemaker.
ATRIO- VENTRICULAR NODE:- (AV Node)
It is also called a pacesetter.
It lies in the lower left corner of the right atrium.
It is stimulated by the waves of contraction initiated by SA Node.
It generates the cardiac impulses which are conducted to the muscles of ventricles through a Bundle of  His  & Purkinje fibers.
BUNDLE OF HIS:-
It is also called an AV bundle.
It arises from AV Node, descends in the inter- ventricular septum & divides into two branches (right & left bundles) & supplies the wall of ventricle of their own side by a network of fine fibers called Purkinje fibers.
SA Node, AV Node, Bundle of His & purkinje fibers collectively form the conducting system of heart & are responsible for auto- rhythimicity of heart.
DIFFERENCE BETWEEN SA Node & AV Node
Characters

S.A.N.

A.V.N.

Position

In the right atrium near the opening of superior vena cava.

In the right atrium near the base of the inter- auricular septum.

Rhythmicity

It has a maximum rhythmicity.

It has less rhythmicity.

Stimulation

It is regulated by the cardiac centers present in medulla oblongata.

It is stimulated by cardiac muscles started by SA Node

Function

Acts as pacemaker.

Acts as a pacesetter.
 

CARDIAC CYCLE:-
It involves alternate contraction (systole) & relaxation (diastole) of the heart at the rate of 70-72 times per min
-1
at rest.
"
The sequence of events that occur during one heart- beat is called cardiac cycle."
Cardiac cycle is formed of three phases-
ATRIAL SYSTOLE:-
It involves contraction of atria from anterior to posterior side which pushes blood to respective ventricles.
It increases the blood flow into the ventricles by 30%.
VENTRICULAR SYSTOLE:-
It involves simultaneous relaxation of atria (atrial diastole) & contraction of ventricles.
Due to ventricular systole, the pressure on the blood increases causing the closure of the tri & bicuspid valve to prevent the backflow of blood into the atria.
As the ventricular pressure increases further the semilunar valve guarding the pulmonary artery (right side) & the aorta (left side) are forced open; Allowing the blood in the ventricle to flow through these vessels into the circulatory pathway.
JOINT- DIASTOLE
Ventricular systole is followed by ventricular diastole.
Due to ventricular diastole, ventricles relax and pressure of ventricles decreases, causing the closure of semilunar valves, which prevents the backflow of blood into the ventricle & the tricuspid, bicuspid valve are pushed open.
Now both the atria and ventricles are in a relaxed state.
STROKE VOLUME:
During a cardiac cycle each ventricle pumps out approximately 70ml of blood which is called stroke volume.  
CARDIAC OUTPUT:
Cardiac output = Stroke Volume × rate of heart beat
= 70ml × 70-72 times m
-1
= about 5 L per ventricle m
-1
Cardiac output = 10 L of both ventricles of heart
HEART SOUNDS:-
During a cardiac cycle two heart sounds can be heard:-
Lub (systolic sound):-
It is associated with the closure of the tricuspid & bicuspid valves. (During ventricular systole).
Dub (diastolic sound):-
It's associated with the closure of the semilunar valve (During ventricular diastole).
DOUBLE CIRCULATION:-
Mammalian heart is four chambered and has complete double circulation which means blood passes twice through the heart to supply once to the body.
Double circulation involves two- circulation.
PULMONARY CIRCULATION:- (lesser Circulation)
In this, the blood pumped by the right ventricle enters into the pulmonary artery, which passes blood to lungs, whereas, the blood pumped by the left ventricle enters into the aorta & the oxygenated blood is carried by pulmonary vein into left atrium.
SYSTEMIC CIRCULATION:- (Greater Circulation)
Here, the left ventricle pumps oxygenated blood into the aorta which supplies it to the body organs & the deoxygenated blood from different organs collected by veins is passed to the right atrium.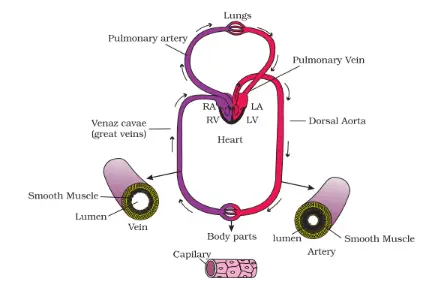 ECG:- (Electrocardiograph)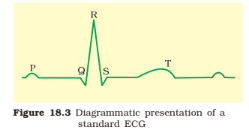 ECG s a graphical representation of electrical activities of the heart during a cardiac cycle
Each Peak in the ECG is identified with a letter from P to T that corresponds to a specific electrical activity of the heart.
The P wave represents the impulse of contraction generated by SA Node which causes atrial depolarisation that initiates atrial contraction.
The QRS complex represents depolarization of ventricles which initiates ventricular contraction.
The T wave represents relaxation (repolarisation) of ventricles.
By counting the numbers of QRS complexes in a given period can determine the heart- beat rate of an individual.
REGULATION OF CARDIAC ACTIVITY:-
Autonomous Nervous Control:-
A special neural center in the medulla oblongata can moderate cardiac functions through an autonomous nervous system.
Neural signals through sympathetic nerves can increase the rate of heart beat thereby increasing cardiac output, whereas parasympathetic neural signals decrease the rate of heart- beat.
NOTE:-
Sympathetic Neural Signals:- Adrenaline neurotransmitter
Parasympathetic- Acetylcholine neurotransmitter
Hormonal control:-
It consists of two amine hormones-
Epinephrine (adrenaline)
Nor- Epinephrine ( Nor- adrenaline)
Both secreted by adrenal glands & increase the cardiac output.
DISORDERS OF CIRCULATORY SYSTEM:
Heart failure, Coronary artery disease (CAD), High blood pressure (hypertension), Angina.
Heart failure
means the state of heart when it is not pumping blood effectively enough to meet the needs of the body. It is also called congestive heart failure. Main symptoms are congestion of the lungs.  
High blood pressure:
High pressure or hypertension is the form of blood pressure that is higher than normal 120/ 80mmHg.  
Coronary Artery Disease (CAD):
Often referred to as atherosclerosis, affects the vessels that supply blood to the heart muscles. It is caused by deposition of calcium, fat, cholesterol and fibrous tissue, which make the lumen of arteries narrower.  
Angina:
It is also called 'angina pectoris'. A symptom of acute chest pain appears when not enough oxygen is reaching the heart muscle.
Angina can occur in men and women of any age but it is more common among the middle age and elderly. It occurs due to condition that affects the blood flow.