Charle's Law|Boyle's law|Ideal Gas Law
Notes
Assignments
Revision Notes
1. Gas Laws
Gas laws are study of any two of quantities like pressure, volume and temperature, when the third is kept constant

A. Boyle's law


"At constant temperature, the volume of a given mass of gas is invesely propertional to pressure." Thus
V ∝ 1/P
Or, PV = constant (1)

If P1, V1are initial pressure and volumes and P2, V2be final values then,
P1V1= P2V2

Graph between P and V at temperature T1 and T2 such that T1<T2 are shown below,



Graph above shows that Boyle's law is strictly not obeyed by gases at all values of P and T but it obeys this law only at low pressure and high temperature i.e., at law density

B. Charle's Law
Charle's Law is stated as follows :
"When pressure of a gas is constant the volume of a given mass of gas is directly proportional to its absolute temperature".
V/T = Constant (2)

Graph between V and T is


This graph shows that experimental graph deviates from straight line. Theoritical and enperimental graphs are in agreement at high temperature.

2. Ideal gas equation
We can combine Boyle' law eqn (1) and charle' law eqn (2) in to a single eqn i.e.,
PV/T = Constant (3)
If n moles is the mass of gas then we write
PV = nRT (4)
where, n is number of moles of gas, R=NAKB is the universal constant known as gas constant and T is the absolute temperature.

A gas satisfying eqn (4) at all values of presserves and temperatures is said to be an ideal gas
now no of moles of gas
n = m/M = N/NA
where
m - mass of gas containing N molecules
M - molar mass
NA - Avagadro' number.
From this,
P = ρRT/M
ρ - mass density of gas.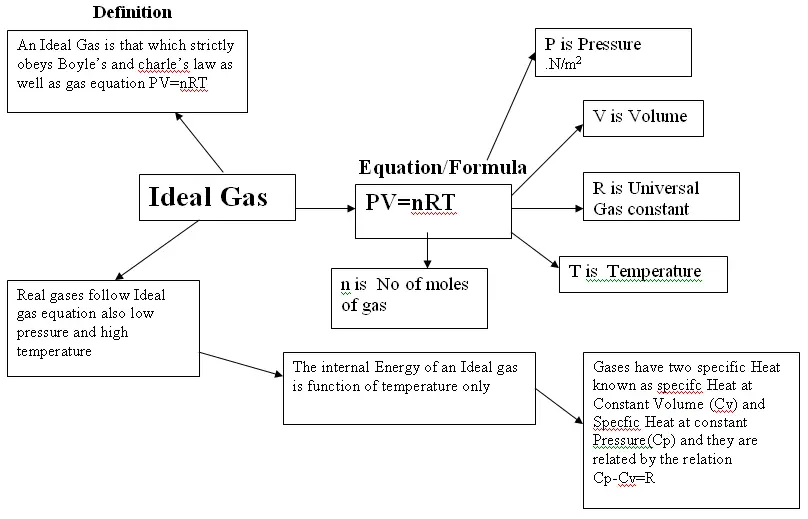 link to this page by copying the following text
Class 11 Maths
Class 11 Physics
Class 11 Chemistry