So we have seen our basics let us now learn the projectile motion in little more detail about Projectile thrown at an angle with horizontal. There are certain approximate assumptions we make while studying projectile motion and they are
We ignore the frictional resistance due to air.
The effect due to rotation of earth and the curvature of earth is negligible.
The acceleration due to gravity is constant in magnitude and direction at all points during the motion of projectile.
Impact of air resistance on the motion of the projectile.
So far we have assumed that air resistance has no effect on the motion of the projectile.Now we know Friction, force due to viscosity, air resistance are all dissipative forces. In the presence of any of such forces opposing motion, any object will lose some part of its initial energy and consequently, momentum too. Thus, a projectile that traverses a parabolic path would certainly show deviation from its idealised trajectory in the presence of air resistance. It will not hit the ground with the same speed with which it was projected from it. In the absence of air resistance, the x-component of the velocity remains constant and it is only the y-component that undergoes a continuous change. However, in the presence of air resistance, both of these would get affected. That would mean that the range would be less than the one given above Maximum height attained would also be less than that predicted by above. The mathematics of the motion with air resistance is quite complicated (especially if you consider the change in the shape and/or surface of a projectile and the variation of the density of the air with height) but the following diagrams try to simplify things by showing generally how air resistance affects trajectory of a projectile.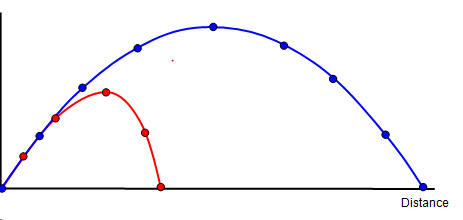 When we use a phrase like ?neglect air resistance?, we imply that the change in parameters such as range, height etc. is much smaller than their values without air resistance. The calculation without air resistance is much simpler than that with air resistance
Confused and have questions?
Head over to Chegg and use code "CS5OFFBTS18" (exp. 11/30/2018) to get $5 off your first month of Chegg Study, so you can get step-by-step solutions to your questions from an expert in the field. Plus get a free 30 minute tutoring session.